LG has been manufacturing appliances, including washers, since 1958. However, even with their long history of manufacturing appliances that last long, their LG washer also experiences problems just like any other. Research shows that an LG washing machine may start to malfunction after  5 years of continuous service to you. Therefore, it's important to be prepared to avoid stopping your housekeeping schedule. One sure way to do that is having a reliable LG Washer repair technician on your speed dial. RA Appliance is your trusted and authorized LG appliance repair technician in Toronto and the GTA. Call us at (647) 477-0799 for quick LG washer repair today!
Did your LG washer start acting up? You need to get it fixed quickly before dirty laundry starts piling up in your home or working station. LG washer troubleshooting can be challenging, especially if you're not mechanically disposed, lack skills and repair tools, and don't have enough time to attempt the repair. Call an RA Appliance LG technician to repair your washer on the same day.
We offer emergency LG appliance repair solutions wherever you are in Toronto and the GTA. We have boots on the ground in every corner of the Greater Toronto Area to attend to your local LG repair issues at your convenience. 
We have over a decade of experience dealing with all kinds of LG appliances, including LG direct drive washers and LG front load washers. LG has approved and authorized us to service all their appliances. Whether your washer has filling problems or the door won't close/open properly, call (647) 477-0799 for speedy LG repair solutions today.
Here are typical LG washing machine problems:
Top 5 Common LG Washer Problems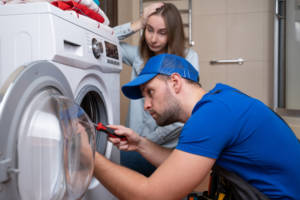 These LG washing machine malfunctions are common in both the front load washers and the direct driver washers. You can find common LG washer issues and basic troubleshooting tips in the manufacturer's manual you get when buying your new LG washer.
1. LG Washer Won't Start
This is among the top LG top load washer problems. If you have been trying to turn on your washer, but the machine seems dead, here are the possible culprits:
       

Cord is unplugged or damaged

       

Popped fuse

       

Damaged breaker panel

       

Lid or door open

       

Washer needs a hard reset

       

Disconnected water supply

       

Washer control board defective

       

Faulty wiring and surge protector

       

Error displayed on your screen
Solutions
If the cord, fuse, breaker panel, surge protector, and wiring are faulty, they need to be repaired or replaced. You'll need an experienced LG washer repair technician to do it quickly and efficiently. If the lid/door is open, close it, and if there is no water, turn on the supply. Error codes can be cleared with the help of the manual, but if you're unable to do it, call (647) 477-0799, and our technicians will help you clear the errors.
2. LG Washer won't Spin
Is your washer filing properly but failing to start or complete a cycle? It's possible that the problem might lie in the drainage system or the spinning mechanism since they are both connected. If you're wondering what might be the causes, here is a list of common culprits that will inhibit your washer from spinning:
       

Pump filter may be blocked

       

Hose running from the drum to the pup may be blocked

       

Worn-out motor's carbon brushes

       

Faulty motor capacitor

       

Belt from the motor to the drum may be snapped, worn-out, or come off

       

Something (an object) is interfering with the rotation

       

Over-loading or less load (may cause imbalance)

       

A faulty door/lid

       

Faulty sensors
Solutions
If the load is small, try adjusting it or putting more laundry to reduce the imbalance that may cause sensors to inhibit spinning to protect your washer. All the other issues that might cause your washer to stop spinning need a technician to fix or replace work-out or damaged parts.
3. LG Washer won't drain
A washing machine that fails to drain water won't do your laundry. You need to get it fixed up and running to clear the load of undone laundry in your house or washing center. If your washer won't drain, here are the common reasons why Washer won't drain:
       

You selected the wrong cycle

       

There's a clog in the drain system (either in the filter or branch pipe)

       

Drain hose is clogged

       

There's an issue with the draining pump. You'll know this if it's noisy or won't turn on (a small object may be caught up here)
Solutions:
Select the right cycle, and your washer will start spinning. Check if the drain hose is clogged and clean it up. Open the front panel and check why your pump is not working. If you find unwanted objects, remove them. If it's permanently damaged, you need a repair technician from RA Appliance Repair to replace or repair it. Always make sure you run a cleaning cycle once or twice per month to clear dirt off your washer.
4. LG Washer is Noisy
A noisy washing machine makes your house or washing station inhabitable due to noise pollution. Loud strange noises are some of the top LG front load washer problems. If your LG washer is making strange noises like jarring, knocking, squealing, rumbling, banging, bumping, scratching, and screeching, you need to have it checked by a professional LG washer repairman. Likely causes of a noisy washer include:
       

Unwanted objects like coins and debris in your washer

       

Unbalanced load

       

Your washing machine isn't level

       

Worn-out seals and bearings

       

Faulty motor
Solutions
Make sure you put the right size of load into your washer to avoid imbalances. Use a level to ensure that all washer wheels are touching the ground evenly. Empty your pockets whenever putting clothes in the washer to remove any metallic or plastic object. Call a repair technician at (647) 477-0799 to replace the faulty motors, worn-out seals and bearing, and any other broken part that may cause noise. 
5. LG Washer is Leaking
A leaking washer can turn your clean environment dirty and smelly. If you don't want to do extra cleaning work after doing your laundry, you need to get your leaky washer fixed before the next cycle. Here are the common reasons why your LG washer is leaking:
       

Water pressure is too high

       

Build-up of un-dissolved detergent

       

Worn tub seal

       

Blocked, loose, or damaged drain pipe

       

Damaged drain pump

       

Worn/torn door boot

       

Washer over-filling issues

       

Too many suds and surge in power supply causing the motor to spin out of control
Solutions
Reduce excess water pressure to at least 20 psi for the water inlet valve to function properly. For the rest of the worn-out and damaged issues that may cause a washer to leak, you need a repair specialist to replace or repair the faulty parts. Call RA Appliance Repair at (647) 477-0799 to fix your leaky LG washer on the same day.
RA Appliance Repair CA—Your Reliable LG Appliance Repair Services Provider in Toronto and the GTA
RA Appliance Repair CA has the best LG appliance repair experts in Toronto and the GTA. They are highly trained and have over 10 years of experience repairing, installing, and replacing LG appliances parts, including washing machines.
We're licensed to offer LG appliance repair solutions 365 days a year. Call us today for emergency LG washer repair services in Toronto and the surrounding areas.
We own up to our work. That's why we offer a guarantee on our services and a warranty of not less than 6 months for all LG repair services and parts. Our LG appliance services are flexible and offered at competitive prices. We'll come to your remote location and offer LG appliance services at no extra charge. Call us at (647) 477-0799 to book an appointment and get a free quote on your LG repair service today!