Appliances are essential to the smoothing running of a home. Since households rely on their home appliances functioning properly, it's important to get a broken appliance fixed as quickly as possible. In many cases, there are some telltale signs that your appliance may be in need of repair.
Whether it is a dishwasher or a refrigerator, we encourage our customers to look out for any signs of trouble and call an appliance expert to inspect the appliance as soon as possible. Doing so can keep you ahead of any repair issues that may stop your appliance from working altogether.
RA Appliance Repair specializes in LG appliance repair and is your one-stop shop for all your appliance repair needs in Toronto. Our technicians are skilled and trained to get your broken LG appliance up and running again in no time.
We offer same-day appliance repair service to get your life back on track with the least amount of inconvenience.
LG Fridge Repair
There are a variety of LG refrigerators designed for different purposes. These include:
Free-standing refrigerators
Built-in refrigerators
Freezers
Wine Coolers and more
Each fridge is unique and requires great skill in diagnosing and fixing problems. Whether you use your refrigerator for personal or professional use, the last thing you want is for your fridge to break down and run the risk of your food spoiling.
Refrigerators typically last 8-16 years, but there are many reasons why refrigerator repair may be necessary. Some of the leading issues that arise are:
The fridge stops working even though it is plugged in
Food stored inside the fridge begins to spoil quickly
Ice either builds up too quickly or is not produced at all
Water is leaking from your fridge
The refrigerator door won't close properly
Our technicians are experts in fridge repair and are more than capable of getting to the bottom of whatever problem your refrigerator has. We are focused on providing long-term solutions to ensure the longevity of your LG appliance.
LG Stove Repair
Having trouble with your stove? What starts out as a minor issue can balloon into a larger problem if left unattended to. Unresolved stove problems can also turn into an electrical or gas hazard, so it's best to have a trained professional assess the problem early on. Our appliance technicians have extensive knowledge and experience in repairing LG stoves.
Stoves are one of the most used appliances in the home. So when they malfunction, it can create a major inconvenience for a family. Some of the common stove issues experienced with electric and gas stoves are:
Damaged electric coils on the cooktop
Electric element not responding when stove is turned on
Gas burner not lighting
Gas burner heating slowly
Gas stove producing a clicking sound
Not adjusting the temperature of burners accordingly
Indicator lights not turning on
We know just how disruptive a broken stove can be to your family's routine. That's why we go the extra mile to make sure we work efficiently to solve the problem. From range stoves to wall ovens, cooktops and microwave ovens, RA Appliance Repair can handle any type of repair needed for your LG stove.
LG Dishwasher Repair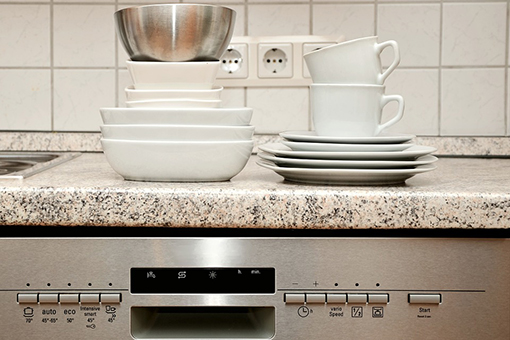 Dishwashers contain many movable parts that can wear over time and need repair or replacement. One great thing about dishwashers is that they usually give a warning sign that repairs are needed.
If your dishes are spotted or stained at the end of the dishwasher cycle, it's quite likely your dishwasher needs repair. LG dishwashers are known for durability. If maintained well, the average lifespan of a dishwasher is 9-12 years. However, signs of trouble like the one above can show up as your dishwasher ages. Other common dishwasher problems include:
Water dripping from the dishwasher and onto the floor
Dishwasher not draining water
Failing to start up
Dishwasher not cleaning properly
Dishwasher not dispensing detergent
Noisy dishwasher
Dishwasher tripping electrics
At the first sign of dishwasher trouble, call us to have one of our technicians examine your LG dishwasher.
LG Dryer Repair
LG manufactures a variety of both electric and gas dryers. While some homeowners may wait until their dryer is showing signs of distress before they have a technician service it, the key to extending the lifespan of your dryer is to make sure it is maintained well. With large appliances like LG dryers, or any dryer for that matter, there is often a concern that any problem means it will need to be replaced with a new dryer. Oftentimes it is a small part of the dryer that is responsible for the malfunction and can be repaired quite easily.
Some of the dryer issues we encounter are:
Clothes are still wet after a cycle
Dryer not turning on while plugged in
Dryer overheating
Cycle ends prematurely
With LG appliance experts like us, your dryer can be back up and running in no time.
LG Washer Repair
Is your washer spinning out of control? We've got you covered! Our trained technicians have worked with LG washers for years and have repaired various types of washers like Front Loading, Portable, Top Loading and more.
Oftentimes, a faulty thermostat, belt or coils in the motor are usual culprits. If you notice one of the following issues with your LG dryer, give us a call:
Loud, unusual sounds when the washer is running
Cycle continues after timer expires
Water doesn't drain out completely
Our appliance technicians will be happy to diagnose the problem and work swiftly to fix it.
LG Oven Repair
If the performance of your oven begins to diminish in any way, it's a sign that your oven needs repair. Some of the common problems people report to our technicians are:
The oven not turning on
Food is not baked evenly
Dealing with gas or electric ovens requires great care and skill. That's why it's important to hire experienced technicians for your LG oven repair. Our technicians are licensed gas fitters and can repair your oven safely.