Your Go-To Experts For Professional & Affordable Appliance Repair Services In Bradford.
Household appliances such as your refrigerator, microwave, oven and stove were designed to make your life as simple and hassle-free as possible. As it is, there is hardly a minute when you are not using one household appliance or another. For example, after preparing a meal on your stove or oven, any leftovers will be stored in your fridge. Given the important role of household appliances, it is important to ensure that they are maintained in perfect working condition.
However, even if you take the best care of your appliances, it is inevitable that they will go bust at some point in time. Should that happen, you should not stress too much since you can always acquire timely appliance repair services from RA Appliance Repair. We are a trusted local appliance repair company that has built a strong reputation among Bradford residents for offering quality and reliable appliance maintenance services whenever we are called upon. Our team of repair technicians have the skill set and experience required to carry out meticulous inspections and the necessary repairs on faulty appliances. On receiving a call from a client, our team usually comes with the requisite repair tools and equipment as well as replacement parts – which is how we are able to guarantee same-day appliance repairs. To get a faulty home appliance repaired quickly and professionally in Bradford, give us a call on 647-477-0799 today!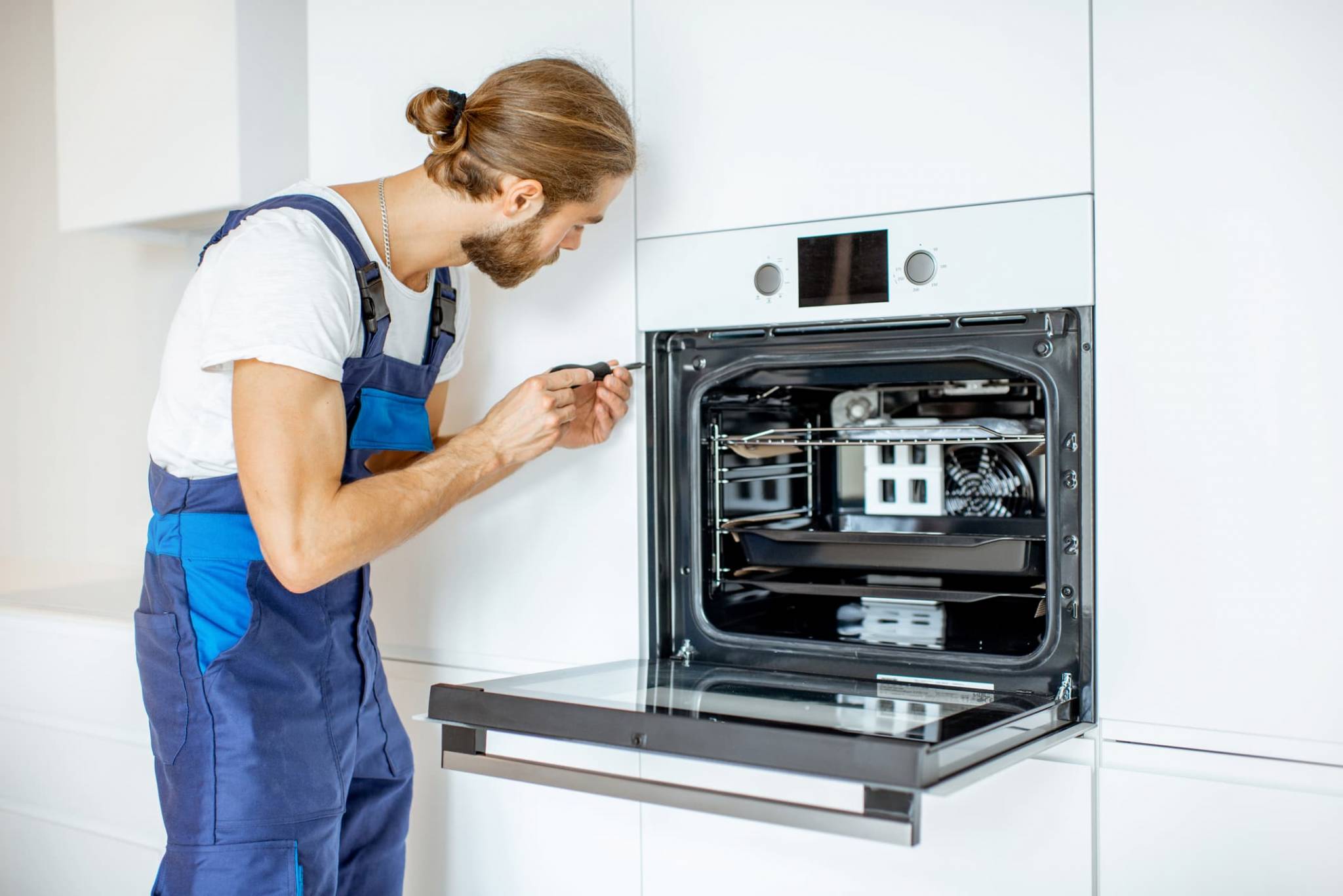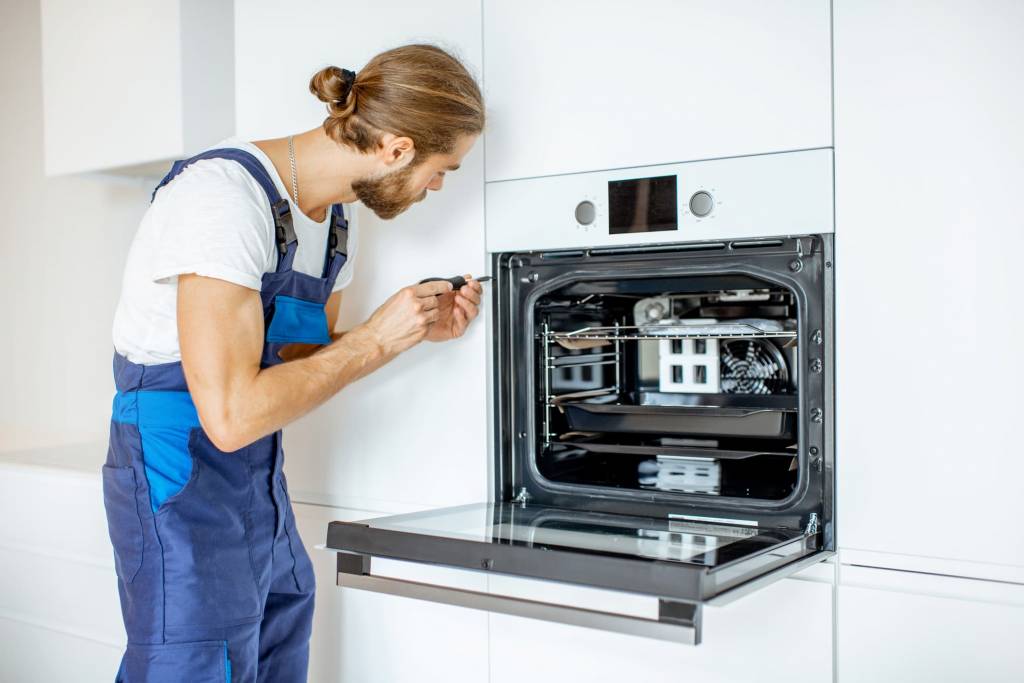 Oven Repair Bradford
Ovens are designed to roast or bake some of the most delectable dishes ever invented. If your oven has a malfunction that causes it to either heat up too quickly or too slowly, it means that the final results you get when preparing a meal will be contrary to your expectations. If you have a damaged or faulty oven that needs the attention of seasoned repair technicians, give us a call today! Rest assured that we will get you back in the kitchen baking within no time.
Stove Repair Bradford
Food is a basic need. At some point during the day, you will need to make use of your stove to prepare meal – be it a gourmet meal or a simple recipe. This makes this appliance one of the most important items in any home. Depending on the nature or extent of damage to your stove, some individual parts may malfunction or the entire ensemble may stop working. Given that all stoves contain many different and delicate components, we advise that you get all malfunctions inspected and repaired by an experienced professional. Contact us today to get same-day affordable stove repair services in Bradford.
Fridge Repair Bradford
A malfunctioning fridge can cause you a lot of inconvenience. Some of the most common fridge issues that clients call our team of technicians to address include faulty motors, leaks and faulty thermostats. If you notice any issues with your fridge, you do not have to start thinking about dumping any food stored within since we are always ready to offer quick and professional fridge repair services in Bradford. On contacting us, we will come with the proper diagnostic and repair tools. Should any parts need to be replaced, we will also provide them or point you to a dealer who can provide genuine replacement parts.
Washer Repair Bradford
Washing clothes by hand is a time-consuming and tiring process. If you notice that your washer is malfunctioning just when you have a load of clothes to take care of, do not start handwashing them yet… Give our expert team of repair technicians a call to get your appliance quickly inspected and repaired.
Dryer Repair Bradford
Dryers are a convenient appliance especially when you need to dry your clothes urgently, say when you have an important appointment to keep. If your dryer starts malfunctioning, it means either of two things … Either it will not warm up – which means a bunch of wet clothes, or, it will become too hot – which will mean damaged clothes. If you encounter either of these problems or suspect that your dryer is malfunctioning, give our team a call to a thorough appliance inspection and professional repairs.
Dishwasher Repair Bradford
If you are like most people, you probably bought a dishwasher to avoid having to handwash your dishes after every meal. If your dishwasher is malfunctioning and you are not keen on washing your dishes by hand, simply gives us a call and we will be at your residence in a jiffy to carry out the necessary repairs on your appliance.
Why Choose RA Appliance Repair Bradford?
A quick web search will reveal that we have several competitors in Bradford. However, over the years, we have managed to stay ahead of the competition for several key reasons… For starters, our company offers same-day appliance repairs across Bradford and the surrounding areas. Our team of repair technicians are always on-call whether it is the weekend or after official work hours. If you require urgent repair services no matter the time of day or night, we are the experts to call. Apart from our flexibility when it comes to service delivery, we also give all clients who call upon us a 100% Satisfaction Guarantee. This guarantee simply means that we never ask for payment until we get your faulty appliance(s) fully operational and functional.
Get Professional Appliance Repairs in Bradford with RA Appliance Repair
Your household appliances play a key role in making your life more comfortable which is reason enough to ensure that they are always operating optimally. Should your appliances start malfunctioning only entrust the repairs to a team of skilled and experienced Bradford appliance repair technicians. On calling RA Appliance Repair Bradford, expect to receive speedy and professional repair services backed by a 100% Satisfaction Guarantee.