How Does a Refrigerator Work?
Though the refrigeration process is simple, modern fridges are anything but. And that's why you need expert refrigerator repair in Toronto.
In this latest post, thus, we will simply deconstruct how a fridge works. The process is actually quite easy to explain but modern fridges are anything but simple. With different makes and models come different configurations and manufacturers are always on the lookout for ways of increasing efficiency. Whether this comes by way of greater insulation, a more efficient compressor design or just better software logic to keep the fridge at its optimum temperature, you'll get to understand it.
Here is a simple breakdown of how a refrigerator works:
Cool refrigerant gas flows through the internal piping of the fridge absorbing heat from inside the fridge and vaporizes.
As a gas, it flows into the compressor, which takes the gas and compresses it to make a hot, high pressure gas.
This gas is passed through condenser coils on the outside of the fridge where the gas dissipates heat into the outside environment and cools.
The gas cools sufficiently and converts back into a liquid.
The liquid travels to the expansion valve. Passing through it, the liquid experiences a drop in pressure and expands back into a cool gas. This passes through the internal coils of the fridge.
As one can see, the cooling principle of a refrigerator is actually quite ingenious. It is also quite straightforward, though what must be added is that the fridge is expected to run day after day for years. The stresses on components cause wear and tear and tough operating conditions reduce the efficiency of the cooling process.
This should also help you better understand what a potential problem could be that you have to call refrigerator repair in Toronto. Improper door seals can introduce warm air into the fridge compartment, leaks in coils can let out refrigerant, compressors can trip off due to pressure imbalances and much more besides.
Factor-in the software logic that manufacturers must apply to oversee the whole process, trying to balance load on the system with cooling efficiency and it becomes all the more complicated.
We have talked a number of times about why you may need refrigerator repair in Toronto. Not only have we discussed the various symptoms people encounter, we have also gone through a bevy of faults that could cause them. From electrical faults to leaks in the cooling pipes, we have gone through a plethora of problems that can crop up in regular refrigerator use and call for refrigerator repair in Toronto.
Common Fridge Problems
Stay calm and call refrigerator repair in Toronto…
…That's what we tell our clients, and save them from spending needless thousands on a new fridge.
Door seals – It's surprising how often damaged door seals necessitate refrigerator repair in Toronto. Crushed, bent or sometimes ripped, door seals can too easily get entangled with a catch or box and get damaged. It's a minor fix and won't cost you a pretty penny. What will cost you is if you think a slight dink in the seal doesn't matter and you don't have it looked at.
Burnt compressor – From end to another extreme. Burnt out compressors are rare nowadays, but a damaged door seal, air leak bad electrical supply and just bad luck can all cause your compressor to conk off. Do call a person for refrigerator repair in Toronto for this purpose. Likely the cooling coils, the fan, plumbing and the entire fridge are fine.
Tripping the circuit – If your fridge is tripping the circuit breaker, disconnect the fridge from the power outlet before you call refrigerator repair in Toronto. Most likely there is a short in some electrical component in the fridge. Best to let a qualified and skilled technician diagnose it, rather than rummage around in the dark!
Running but no cooling – This could be because of a number of reasons; common causes include excessive heat of the surroundings of the fridge hurting its cooling efficiency; or, and quite likely, there is a leak in the cooling coils. This may sound like a big deal, but an adequately equipped person skilled in refrigerator repair in Toronto can have your fridge patched up and refilled in no time at all. Certainly, a gas leak is no reason to bid adieu to your expensive fridge, unless this becomes a perennial problem and your fridge is quite old.
At RA Appliance we have the confidence to say we have seen it all and fixed it all: frayed wires, burnt motors, innards filled with condensate – and even fused light bulbs. Our technicians are highly skilled and experienced; which is what lets us diagnose your fridge's malfunction quickly and suggest the best course of repair. Our refrigerator repair in Toronto looks after all makes and models of fridges, especially popular ones from GE and Maytag.
Repairing a broken down fridge, even one which is a few years old, is often the smarter and more cost-effective solution than replacing it with a new one. Why? As refrigerator repair in Toronto has discovered, it is usually one (maybe two) culprits that have caused your fridge to stop cooling; there is no need to throw out an otherwise fully functional fridge for just that reason. Get it fixed and save yourself some money. Let's see what it is that could be ailing your fridge so.
Fridge Repair Service: Fridge Common Warnings
Fridges are a robust appliance…
…but not indefatigable so as to never suffer mechanical or electrical fault.
Here are some common complaints, symptoms and possibly warning signs of your fridge being on the verge of a break down.
Coolant leak – Fridges have for a number of years now employed the technique of placing the condenser (or coils) close to the external walls of the fridge, which makes them warm to touch. If you feel the fridge is not as warm as it normally is on the outside, and warm on the inside, chances are that the refrigerant gas in the fridge has leaked. Your Toronto fridge repair person can have it topped up and checked for leaks in a jiffy. Usually fill ports are easily accessible from the outside of the fridge.
Uneven cooling – If your fridge-freezer is cooling unevenly there could be a number of reasons behind it. The fan circulating air around the fridge may be obstructed, air vents that permit cold air to go from one chamber into another may be blocked or it could be a sign of a failing cooling system. Get a Toronto fridge person to check if your fan has burnt out or there is some other blockage in airflow system
Electronic or sensor issues – These are rare in modern fridges, being relatively unstressed components and given the high levels of reliability that can be expected in electronic components. A Toronto fridge repair person will often try and diagnose other problems, which may be sending false readings to the system, before looking at the electronics system. These can be expensive and should be checked thoroughly before being replaced.
Inoperable thermistor – The thermistor is essentially a resistor which changes its electrical resistance based on temperature. Thermistor faults are rare too, and not easy to diagnose. Information on thermistors is not often publicly available and it takes an experienced Toronto fridge repair person to assess (and diagnose) if indeed it is the thermistor that has malfunctioned.
Other smaller things – Door problems such as improper sealing, door sensors malfunctioning and burnt out lightbulbs are relatively common problems we are called in to fix on a regular basis. An experienced repair person can diagnose and resolve such issues in no time at all.
RA Appliance Repair is a trusted and reliable name for so many people. We pride ourselves on completing a job for the long run – and not having you call again for the same problem.
No problem is too big or too small for our experienced technicians. Our repair teams have seen it all and are best placed to determine the root cause of your dishwasher not working.
Our technicians are experienced in the repair of all makes and models of fridges. Particularly, we have worked extensively on the more popular brands of fridges: GE, Whirlpool and Maytag.
When your frost free fridge is running a little warm on the inside and a little cool on the outside, what you have is a situation calling for Toronto fridge repair.

Fridge break downs are an inevitable part of modern living. Refrigerators are expected to operate flawlessly 24/7 whatever the load placed on them and whatever the operating environment.
Fridge Leaking Water? DIY Fixes you can do yourself
The most common fridge repair Toronto problems: "Help! My fridge is leaking water!"
Defrost drain. This is a very prevalent problem and we see it all the time. Usually, the fault is with the defrost drain. If the defrost drain is clogged or blocked by a buildup of ice, water that would be normally drained may start leaking out of the fridge instead.
Drain pan. If the defrost drain is fine, the next place to check is the drain pan. A cracked or damaged drain pan causes water leakage because the water is not being collected properly. If this is the case, the drain pan needs to be replaced immediately
Ice maker. A damaged ice maker will also result in unwanted water leakage. Common ice maker issues include damage to the water-line connection, cracked seals, or torn hoses. Depending on the extent of the damage, the water-line may be repaired or will need to be replaced entirely.
Water filter. If you are still seeing water leakage, the next place to check would be the water filter. If your fridge's water filter has experienced damage, the filtering system will not function as intended and will leak water. This may be due to a fractured connection between the filter and its water supply, because the filter was improperly installed, or because it is incompatible with the fridge model.
As can be seen, the causes of water leakage can be diverse. We have covered the usual suspects above, however water leakage can transpire from a number of other reasons. It is recommended to always call in a fridge repair Toronto expert in order to get the issue resolved professionally. By hiring a fridge repair technician, you are assuring that your refrigerator doesn't fall prey to further damage caused by amateur work.
In our experience, fridge repair in Toronto is a never ending ordeal. Every day we get so many people calling in with a wide variety of problems. Every time you think you've seen it all, someone calls in with a fridge problem that will surprise you. This is understandable—a fridge is much more complex than most realise! With every passing year, fridge technology gets more and more sophisticated, especially with the recent integration of computer and touch screen technology.

Whether your fridge is brand new or an older model, dreaded water leakage is something that all fridges have in common. With this in mind, we have rounded up a list of the most common water leakage issues. We see these on a day to day basis when conducting fridge repair in Toronto and, more often than not, water leakage issues stem from a handful of places.
Maytag Refrigerator: Common Problems
Fridges may off the cuff seem 'simple' machinery…
…but they are a complex network of air compressors, electrical systems, cooling pipes and insulation hardware.
We look at some common problems that lead you to Maytag repair in Toronto. Note this list is not by any means exhaustive and nor are the fixes that are mentioned. For the best results from Maytag repair in Toronto, make sure your fridge is inspected thoroughly, the problem identified before a fix is issued.
"My fridge is not cooling" is perhaps the most common complaint we get. It also happens to be the broadest. Virtually any aspect of refrigeration could have caused the problem due to which the fridge is not cooling. Or, it is entirely possible that though the fridge is cooling, the cool air is simply escaping. Maytag repair in Toronto must therefore begin with a thorough diagnosis, beginning with the moving parts, such as the compressor, the fan and the door seals.
"There is ice building up" ranks a close second in Maytag repair in Toronto. We hear this quite often, along with its close cousin "the insides of my fridge are condensing over". It's not that frost free fridges do not collect condensate, they do. It's just drained off into a collection pan. Faulty door seals and an ineffectively sealed evaporator could be why there is ice building up in your frost free fridge. Bu the location of the ice and how it has built up will give clues as to what the cause could be.
"My fridge is running constantly" is another call we receive quite often from owners concerned about burning out their fridge. This can be due to inefficient cooling resulting from dirty condenser coils, inadequate gas pressure in the system or an incorrect temperature setting. Again, Maytag repair in Toronto must assess each fridge individually to determine the root cause of this problem.
Maytag appliances are one of the most popular brand of appliances sold in Canada. As such, we maintain an up-to-date information repository and skill set when it comes to Maytag repair in Toronto.

About the most commonly purchased Maytag products are their refrigerators. These modern appliances provide good cooling performance and generally trouble free performance, though, as is the case with any appliance, can occasionally develop faults. And fridges being an extremely important part of the house, Maytag repair in Toronto better be up to snuff too.
What You Should Know About Refrigerator Repair in Toronto
When your appliance does not function as it should, investing in professional refrigerator repair in Toronto is a cheaper alternative to buying a new one. Hiring a repair service is also beneficial for the following reasons: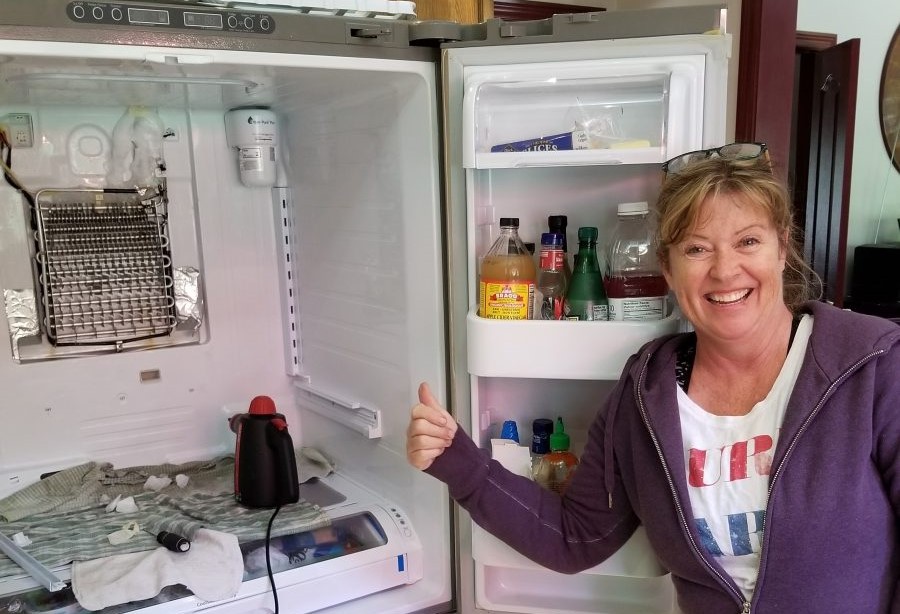 ● Save Money. Buying a brand new home appliance is not always the best choice for homeowners, nor is it a realistic option. Doing this will cost a lot of money that can be better spent on more important things. Refrigerator repair restores your fridge back to optimal condition at a lower cost than buying new.
● The Convenience of Service. To hire a refrigerator repair in Toronto, all you have to do is call the 24/7 hotline or book an appointment online. It's fast and easy—we work to your schedule! One of our expert technicians will visit you at your convenience and fix your refrigerator.
● Safety is Priority. Hiring a good and reliable refrigerator repair company will ensure the safety of your appliance, as well as protect your home in advance from complications that can arise from a broken fridge (like water damage). We only deploy well-trained professionals who can efficiently handle the repairs.
Trying to repair a broken refrigerator by yourself may lead to injuries or the problem getting worse. It is always recommended that you seek professional help when it comes to major home appliances.
Refrigerators are one of the most used home appliances in our day to day survival. This helpful home necessity is used to store frozen goods, food products, to chill bottles of water, as well as prevent leftovers and other food items from spoiling. With that said, refrigerators are prone to wear and tear just like any other appliance, and it is inevitable that your fridge will require attention from time to time. This is why hiring a reliable refrigerator repair Toronto technician is crucial. Without expert assistance, a refrigerator is at risk of eventual breakdown.
RELATED ARTICLE: How to Hire the Best Appliance Repair Service in Toronto